Day 3 - August 18th, 2019
Third Day of the Trip
Next morning, We had to get up way early like at around 4:30 am to get ready for our light coffee at 5:30 am. You can see that there was barely anyone at the dining tent above. By 6:00 am, we were on the safari hunt heading out to the wilderness and it's still dark.

We were partnered up with the same 80 years old father and son, Kevin from Taiwan. The Masai Mara plains driving is not for the faint of hearts as the makeshift roads are fairly…oops extremely bumpy. So we got our first pit stop under a tree and yes, you do them out in the open. Ladies usually do them behind the bush or behind the 4×4 vehicle. Its literally like camping but on four wheels.
So one of the early sighting we saw was the Cape Buffalo which is one of Kenya's Big 5 to see… So we got One of Five to see list checked! Yahoo!!

So what is the Big Five?
At one time, the "Big Five" were at the top of hunters' lists, as they were considered the most difficult of Africa's big game to shoot while on foot. These were: lion, leopard, rhino, elephant and cape buffalo. Fortunately, it's tourists who do most of the shooting today but only with their cameras.
CAPE BUFFALO ( 1 of Big 5)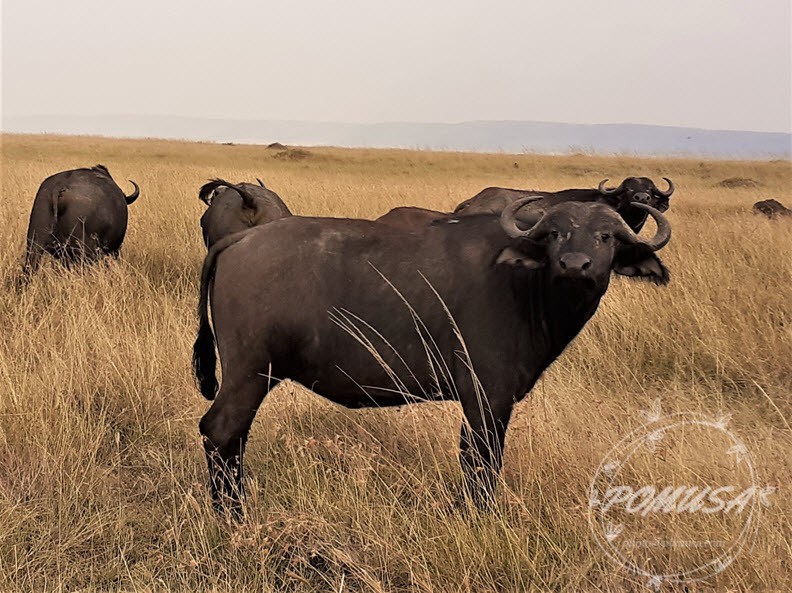 Since we were out roaming the plains, it would be pointless to go back to resort for lunch. We had packed breakfast and lunch every day with the exception of the camp moving day where we had a sit-down breakfast.
So everyone asks what kind of water we drink and it's mostly bottled water. I encountered two brands while in Kenya but I am sure there are more than two. I did also bring my own filtration bottle from the US but found it unnecessary.
After breakfast, we saw a number of different types of animals
Look it's Pumbaa (Warthog aka Wild Pig) Sorry!! no Timon here as I can't find them…
The next two animals which we will be keeping an eye out for are the Wildebeest and Zebra as they will be the highlight for the end of the week.
We didn't get back to the bush camp till about sunset which is about 7 pm. We were exhausted on the first full safari day and we dropped our things off in the cabin prior to having dinner.
We slept hard the second night at the camp and we will continue the next day.